Calendars are a simple and highly effective print marketing and branding tool. Our calendar printing service helps you keep your business in front of your customers. Choose calendars either as A3 laid flat with wire binding, or A4 booklet style which opens to A3 size – with a minimum order of only 40. We can also do the design, and advise on image selection. When you deal with us, you get local service and attention from the people printing your job.
See below for frequently asked questions about our calendar printing…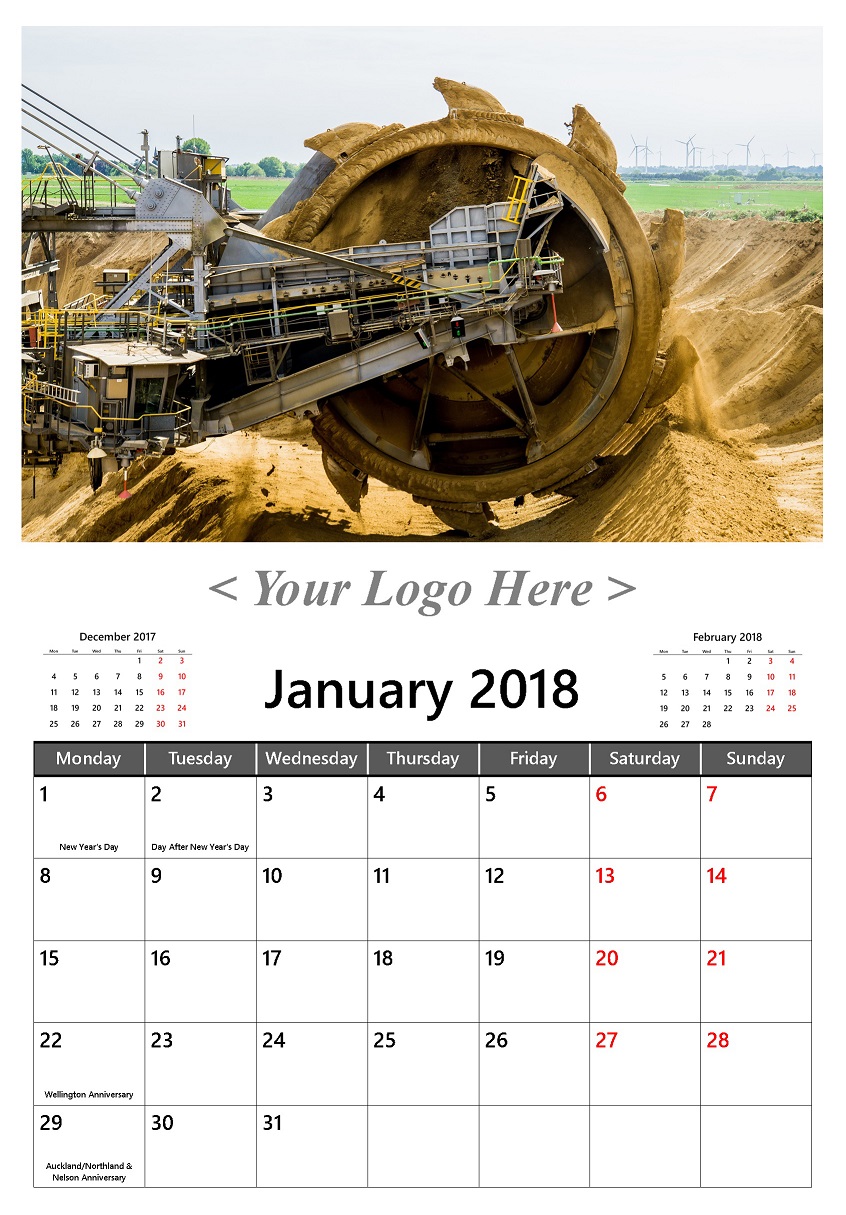 Frequently asked questions about our calendar printing
What paper do you use? We print our calendars on satin finish quality digital stock, which gives excellent colour reproduction and is ideal to ensure flat hanging
Are your calendars January to December, or can I have a different start month such as April or July? Yes, you can have a start month other than January
What about a front cover page? This is standard in a booklet style calendar, and can be included as an extra page in an A3 laid flat calendar.
Do I get a proof? Absolutely, we provide a PDF digital proof and only print your calendars after you give us the go-ahead
What is the turnaround? Allow 5 to 15 working days after approving your PDF proof
Do you deliver? Yes, delivery is free in central Whangarei. Nationwide courier delivery is available at cost, or you can have your courier collect
I don't have any suitable photos for my calendar, can you help? Yes, depending on what you're looking for. A good quality online image library for free photos is www.pexels.com where you can search thousands of images – whether you're looking for landscapes, lifestyle shots and much more
When do I have to pay for my calendars? If you have a monthly account with us, those terms apply. Otherwise payment is required once you approve your calendar proof. If you wish to apply for a monthly account, download the application form here
Why choose us for calendar printing
We pride ourselves on both our customer service and competitive pricing
We're local, and you get service and attention from the people printing your job
We can do the design, and can advise on photo selection to help you through the process
Your calendars are digitally printed on silk finish paper for a quality feel and finish
You can order as little as 40 calendars – so we're flexible on quantity
Copyright and/or Intellectual Property:
It is the customer's responsibility to ensure that no copyright or intellectual property rights have been breached with any copying, scanning or other reproduction services provided by Gawdy Green Ltd. Any such services we provide are done so only on this basis. Gawdy Green Ltd accepts no responsibility or liability in the event of any potential issues. By using Gawdy Green, you accept these terms.